Cannot enter data on a form. Getting a message about PDF/A standard on the top of the form.

A bar like the one above appears on top of the form.
A setting needs to be changed in Adobe Reader or Adobe Acrobat.
Open up Adobe Reader or Acrobat. Go to the menu item Edit > Preferences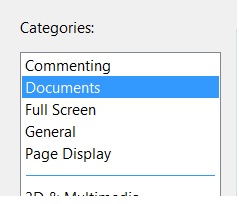 Select Documents from the Categories listed on the left hand side
On the right side there will another window. Go to the section PDF/A view section. Then change the drop down to be set to Never.

Click OK.
Now information can be filled out on the form.
Updated: March 4, 2013